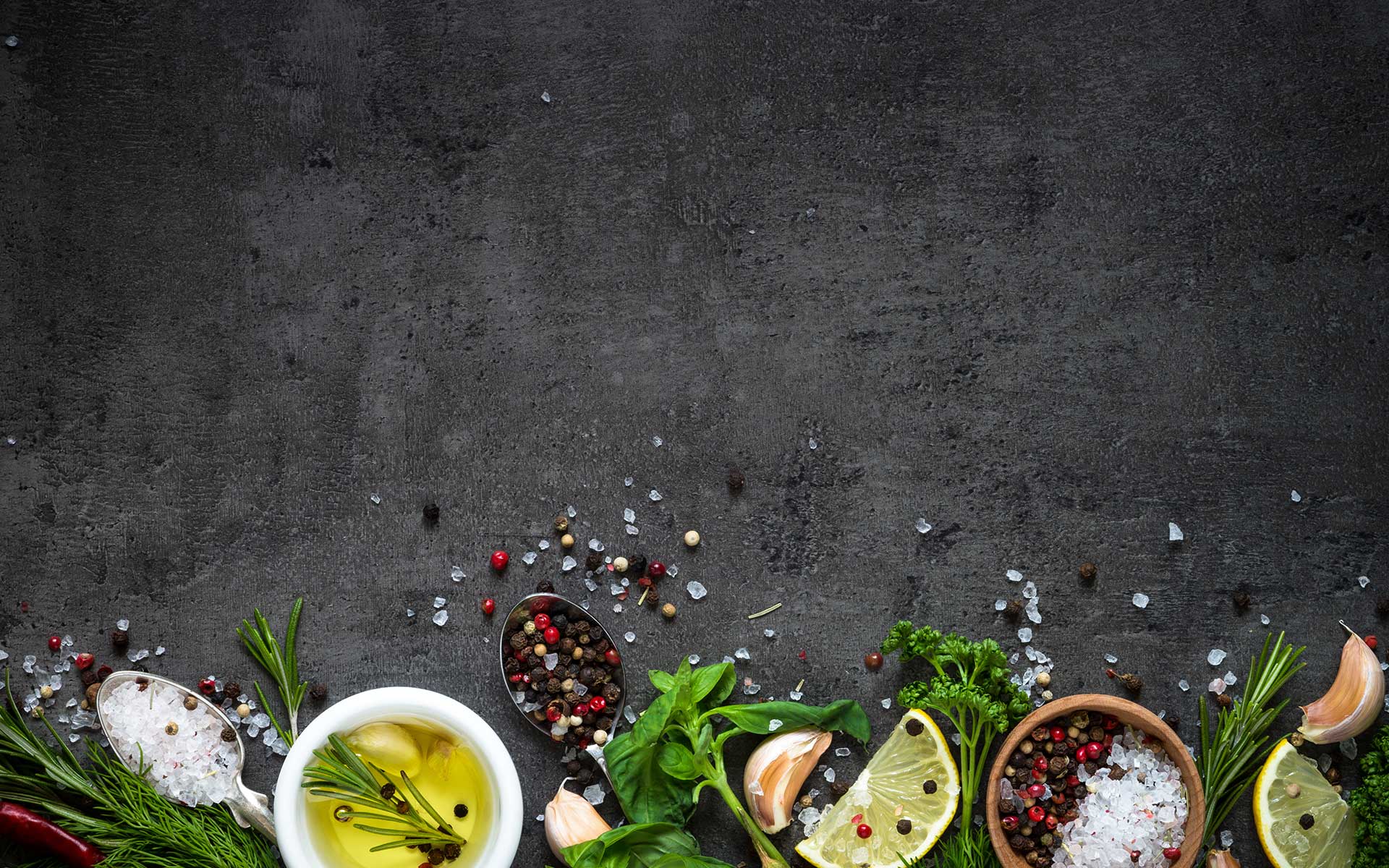 EKS FOODS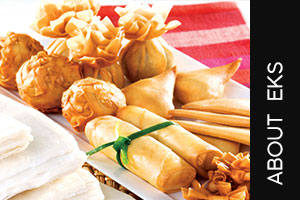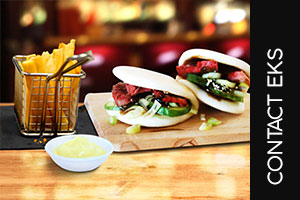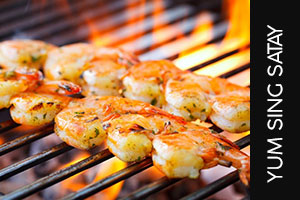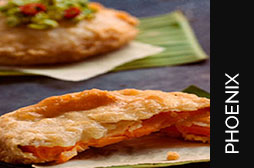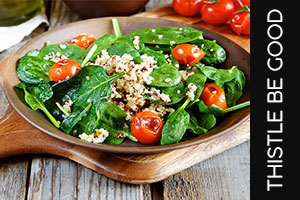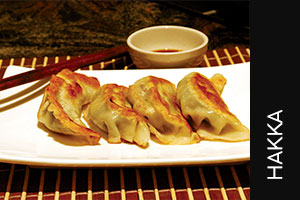 FOOD SERVICES BROKER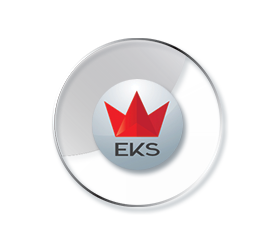 CONTACT
WELCOME TO EKS
FOOD SERVICES BROKER
HOW WE WORK
EKS Foods proudly represent premium Australian brands and food product lines.Essentially, EKS Foods can fast track new products to the market by introducing your product to our vast Australia wide food distribution networks.
COMPANY PLATFORM
EKS is an established Food Services Brokerage firm representing multiple wholesale manufacturers to successfully launch and promote new and existing food labels and product lines.
SERVICES PROVIDED BY EKS
PRODUCT MANAGEMENT
EKS specialise in full product management from sales and marketing to active participation in product launches, tradeshows, promotions, successful media and advertising campaigns pitch to our established network.
CAPABILITIES
Our key objective is to ensure the success of each and every brand we represent.  EKS have operations expanding into Regional South Australia, Northern Territory, Town and Country.
---
EKS Foods have access to Australia wide food distribution networks for Industrial, Retail, PL Cold Storage.  All meeting the highest levels of safety standards.
---
EKS Food Services has experienced continuous sales growth right across our full range of premium showcase products.  Our company framework is built around our continuous improvement of systems within our company infrastructure.
SERVICES WE PROVIDE
We are a Food Services Agency dealing with instantly recognisable Australian Brands. With a reputation for sourcing and carrying only the highest quality which meet all nutritional compliance requirements.
Personal, regular service, sales calls and deliveries from SA to NT.
Sales and Marketing initiatives.  We buy, sell and deliver.
Access to an established, reputable network of leading brands and distribution outlets.
Active participation in product management and integration.
DISTRIBUTION NETWORK

EKS Foods introduce premium products to the food services industry through our secure trading terms and established distribution network.
Market Intelligence Reporting Systems | End-user call monitoring system
Key Wholesaler – presentation and reviews | Launching of new products
Strategic Business Partnership Networking
Presentation to Distribution Company – meetings and events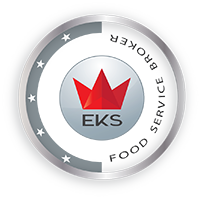 When you engage EKS Food Brokerage you only pay for performance and most importantly – results!

We take pride in our partners whom we represent.  Our valued reputation can be attributed to a committed team of skilled food industry professionals and backed by the highest level of experience.  EKS demonstrate excellence in quality and standards throughout all levels of Australian quality guaranteed products.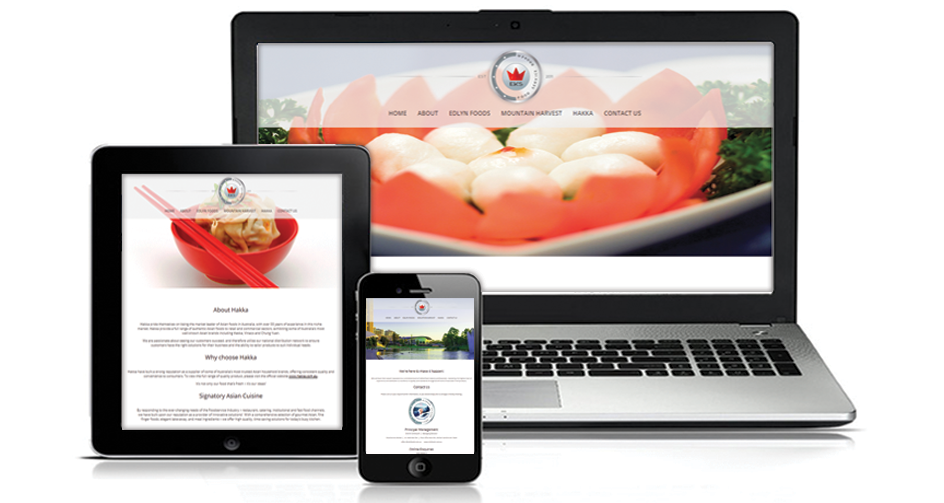 When you engage EKS Food Services you gain instant recognition through our wide Distributor Network.  We help to fast-track  your product by getting it in front of the right people.  Our wide distribution and Community Network will get your name out there with the big brands!

HAKKA & EKS FOODS

RECIPE OF THE DAY


PEKING STYLE BBQ PORK BAO
Roasted Garlic Cassava Chips
Wasabi Mayonnaise
Serves 5 - 2 pieces each

---
Recipe compliments of Hakka. Preparation is 15 minutes and cook time is 60 minutes. Easy ...
Enjoy this special dish brought to you by Hakka.
VIEW RECIPE
PRAWN-TASTIC PRAWN DUMPLINGS


Classy Finger food designed to impress

Be our guest - we invite you to visit
our Chef's Corner
---
Simply select a dish from our Chef's kitchen
and enjoy the many delightful ways to spice up your kitchen Chef's Corner.
VIEW RECIPE
NEW PRAWN GRENADES


This one has been flying off the shelves

Flavour-bursting tender prawn balls, coated in crunchy break croutons - an exquisite sensory explosion for the taste buds.

---
Perfect for any occasion. Add these tasty little wonders to your menu today! Hakka Prawn Grenades.
VIEW RECIPE
GRILLED PRAWN TOAST


A healthy choice of premium minced prawn and calamari - gently infused with light spices and sprinkled with sesame seeds.

This top selling prawn toast makes for a great entrée or starter.

---
Perfect for any occasion. A favourite of everyone and a delicacy for sure. Grilled Prawn Toast.
VIEW RECIPE
THAI FISH CAKES


With a perfect balance of aromatic Thai flavours, this product features a traditional combination of fresh fish with authentic herbs and spices.

A wonderful starter to any chef's menu, or great entrée.

---
Perfect for any occasion. A favourite of everyone and a delicacy for sure. Thai Fish Cakes.
VIEW RECIPE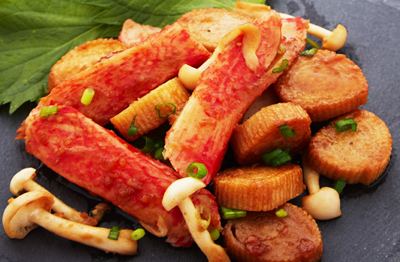 Create a seafood sensation in minutes with our mouth-watering Sashimi Snow Crab made from premium surimi.
You will be impressed by the realistic texture with filaments that pull apart, just like real snow crab!
These little beauties are pure gold for your Menu. Our Golden Scallops are made from premium surimi – an affordable seafood alternative with a realistic scallop appearance and texture.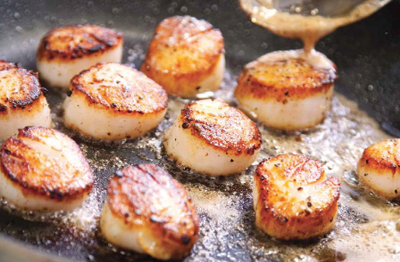 Beef and chicken satay skewers come in regular and cocktail size. Pre-prepared and cooked these satay skewers are ready to just heat and serve with your favourite dipping sauce.
EKS Foods have released our instant, truly authentic Asian Satay Sauce. The perfect condiment to serve with Hakka Satay Skewers. Shop here for this exquisite oh so yum, mouth-watering, satay sauce.
NEW | Lotus Leaf Buns
Oriental sandwich, taco styled buns are a TOP trending menu item.  Versatile and designed to suit any filling, great served with our
Japanese Chicken Karaage
, braised pork belly, soft shell crab and coleslaw or even fresh fruit and icecream.  Simply steam, deep fry or microwave!
NEW | Lotus Kitchen Dumplings
Our Lotus Kitchen has created our new delicious range of Northern Style Dumplings.  Silky smooth pastry filled with our secret authentic recipes and chunky pieces of pork that you can actually see! Range: Pork & Spinach | Pork & Chives | Pork & Chinese Cabbage | Pork & Celery.
New | Chicken Karaage & Teriyaki Chicken
Tender pieces of Japanese crispy style chicken karaage, authentically seasoned and coated in a crunchy, golden batter.  Traditionally served with rice, as an entree or in a bento box – also the perfect compliment in lotus bun or slider.
Authentic sweet & sticky Japanese style Teriyaki Chicken golden glazed. Traditionally served with sushi rice or lightly charred in a wrap or bao for a fusion application.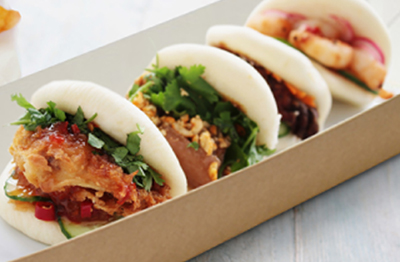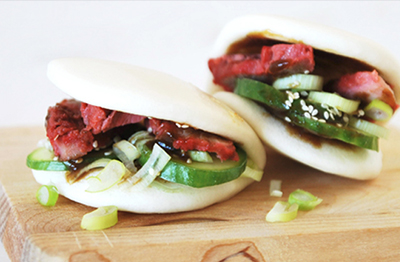 Lotus Leaf Bao Buns – Charcoal 30g
NEW … Soft & fluffy open cut buns, in an eye-catching charcoal colour, perfectly complimented with any delicious filling. Get creative with an Ebony & Ivory arrangement. Authentic, Vegan friendly and Quick & Easy.  Product Code: 5397 | Available in White & Charcoal.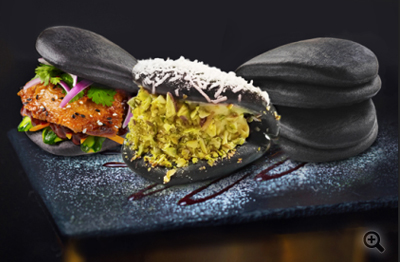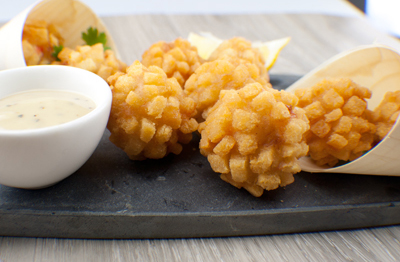 Flavour-bursting tender prawn balls, coated with crunchy bread croutons, an exquisite sensory explosion for the taste buds. Perfect for every occasion. Don't forget to add these little wonders to your menu today.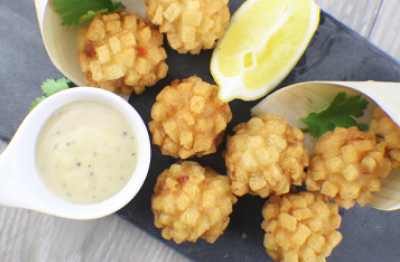 ALL AUSTRALIAN GROWN & HARVESTED
POTATO CAKES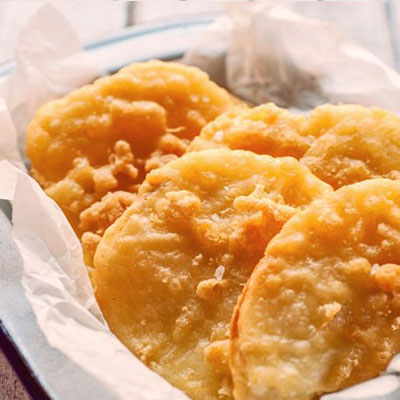 Hand-dipped Potato Cakes
Vegan and Vegetarian friendly and sliced from whole potatoes.  Each slice is individually dipped by hand in our uniquely formulated batter, providing a delicious crispy coating, just like you would if you had made it yourself!   Our potato cakes come to you straight from the farm to provide you with the quality, consistency and freshness which achieves a standard not often found in the industry.
Packaging – 100 Pieces per carton | 50 Pieces per carton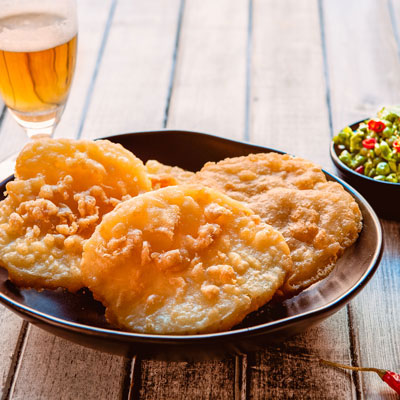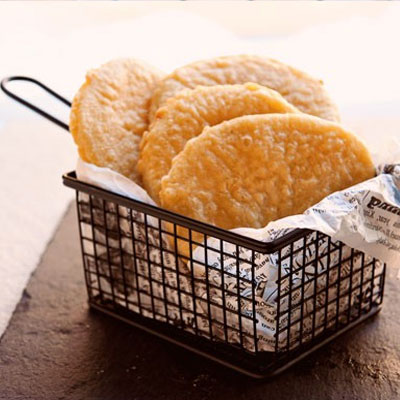 Natural-sliced Potato Cakes
Sliced from whole potatoes and coated in a crispy specially-formulated batter, our potato cakes/scallops are the highest quality available in the market.  While others manufacturers rely on third-party suppliers for their potatoes, we grow our own potatoes on our farm in Gembrook, Victoria.  Vegan and Vegetarian friendly!
Packaging – 120 Pieces per carton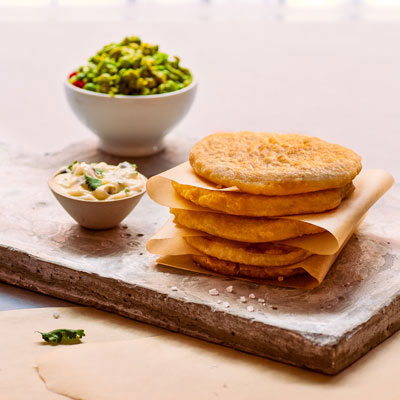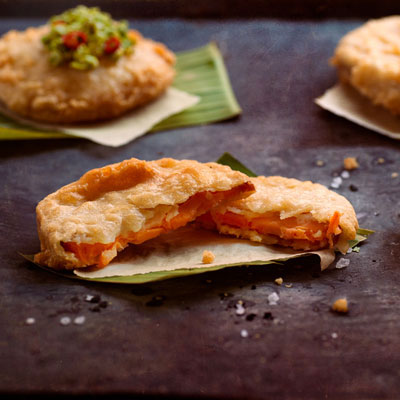 Sweet Potato Cakes
Natural whole slices of the Australian sweet potato, coated in a specially formulated golden crispy batter.  Vegan and Vegetarian friendly!
Packaging – 60 Pieces per carton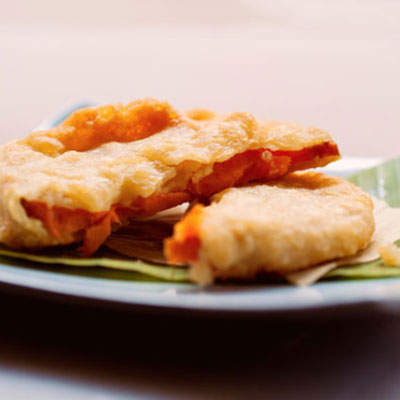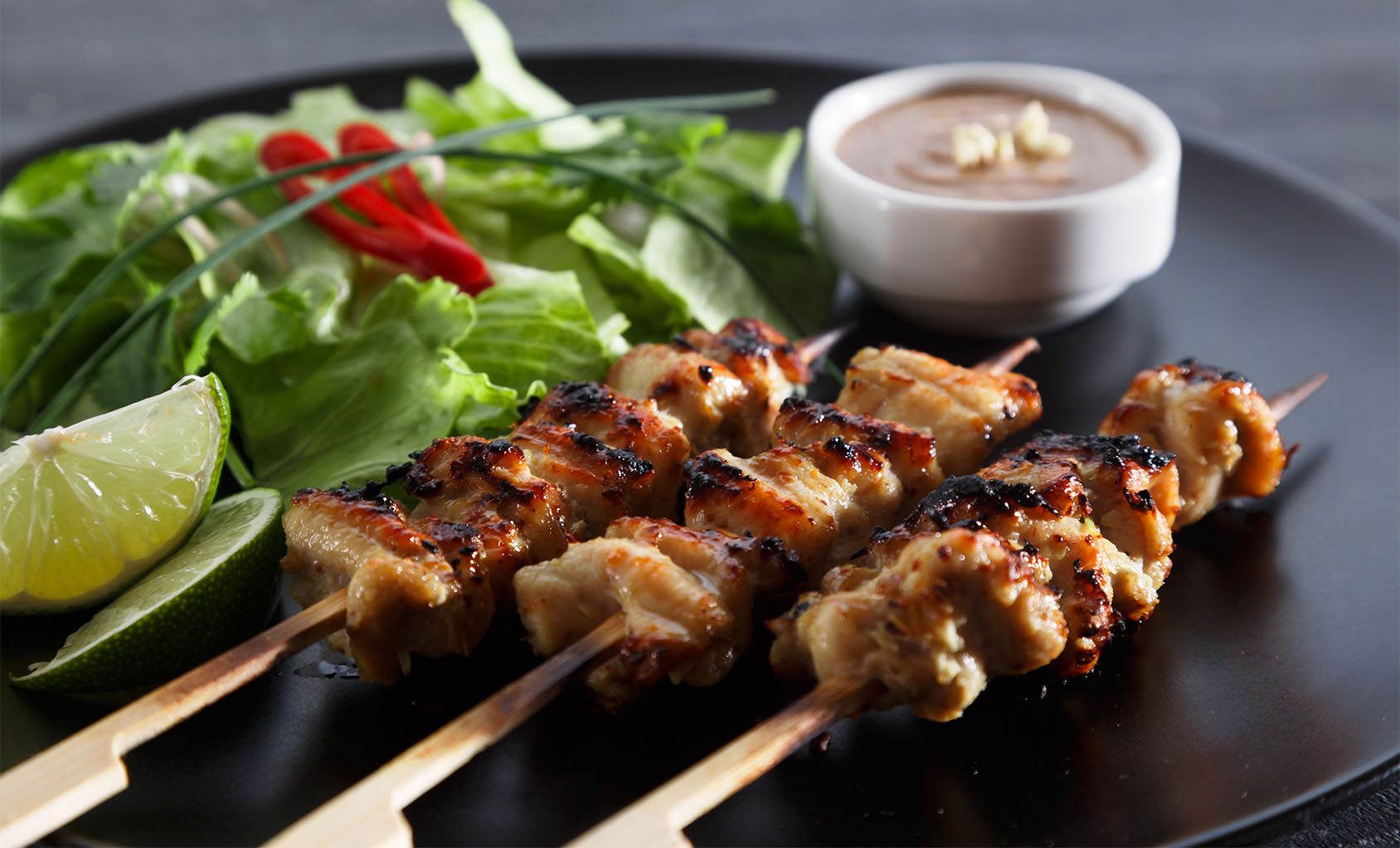 01 . Boiling Water | 02 . Add one sachet of Satay Sauce Mix | 03 . Gently stir & bring back to the boil
OUR SATAY SAUCE
GO TO SHOP
SATAY SAUCE
AUTHENTIC SATAY SAUCE
The Sauce
If you are a lover of Satay Sauce, you're going to love this Authentic Asian home-made Satay Sauce straight from the Chefs Kitchen. Yum Sing Satay Sauce is sooo Mouth-watering.
Sooo Yum Sing
Our Satay Sauce is so good you can't possibly keep it all to yourself - then again ... The flavours are rapturous, tantalising and splendiferously awesome to the last mouthful. It will have your friends talking into next year.
Dressed to Impress
Serve with chargrilled prawns, chicken, beef, pork or vegetables. Best shared with friends at your next dinner party, BBQ, or featured on your Menu. This little sauce is totally dressed to impress and will keep your patrons coming back for more.
FOOD SERVICE BROCHURE
HOME-MADE CHEFS RECIPE
GO TO YUMSING.COM.AU
FOOD LABEL INGREDIENTS
SIMPLY THE BEST ALL NATURAL
INGREDIENTS – INSTANT SATAY SAUCE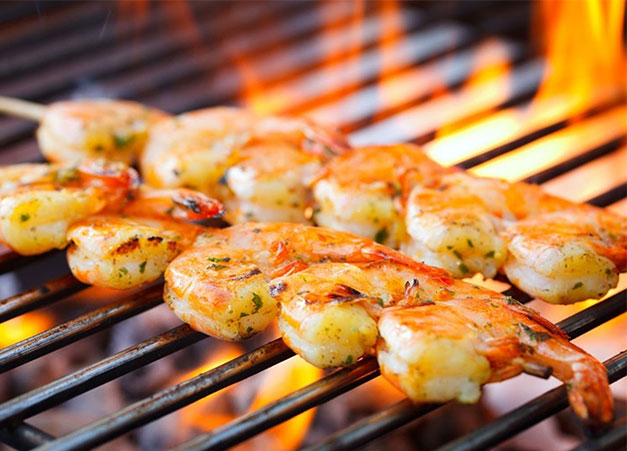 Yum Sing Instant Satay Sauce
If you are a lover of Satay Sauce, you're going to love this.  Yum Sing is sooo Mouth-watering, tantalisingly and splendiferously awesome.  The flavours of our sumptuous sauce come straight from the heart of our Chef's kitchen.  Discover over 30 years of refinement in the making.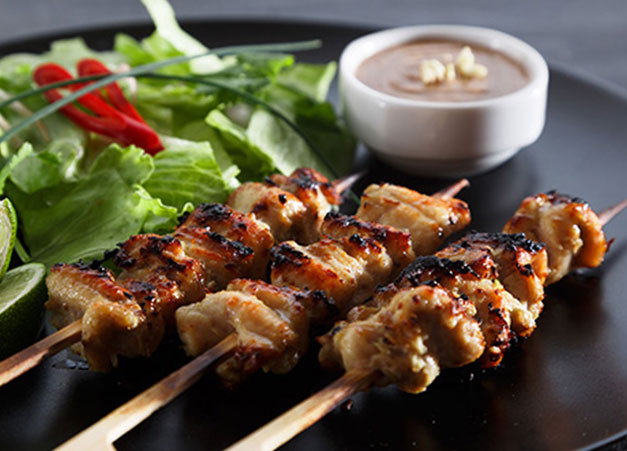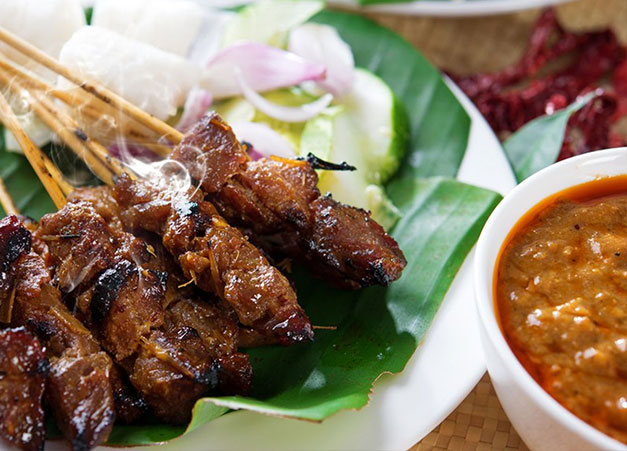 All Natural
Believe it or not, this family owned, tongue-tantalising recipe has been hiding away in Yum Sing Restaurant, a landmark restaurant nestled in the heart of Old Reynella. Drop in and say hi – they're a friendly bunch.
Gluten Free . No MSG . Free from Preservatives and Additives. Naturally and lovingly made by Yum Sing.  Our satay sauce is ready in just 5 minutes. You will be an instant hit at any function, dinner party or BBQ- your guests are in for an exquisite treat.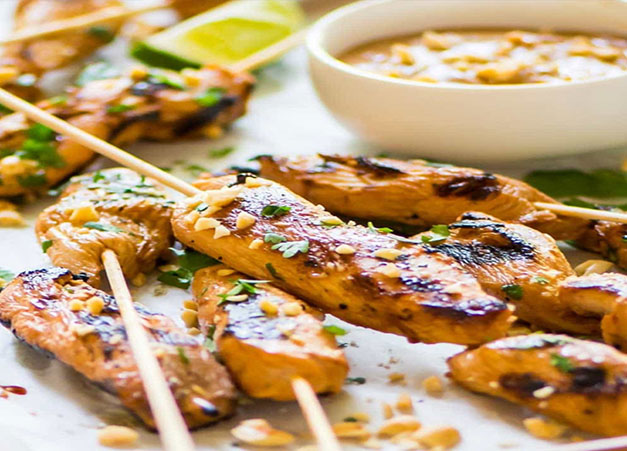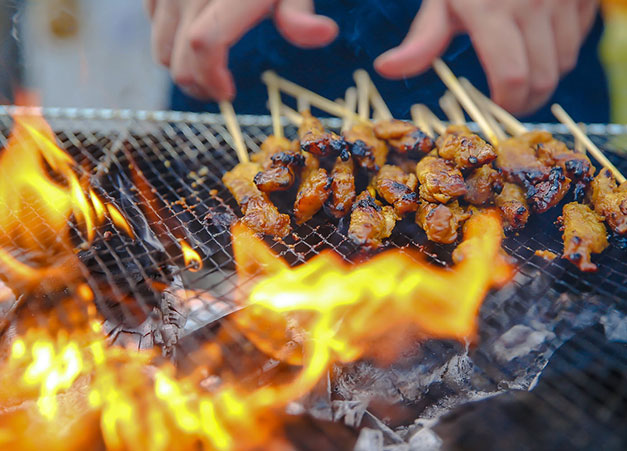 Dressed to Impress
Our Satay Sauce is so good, you can't possibly keep it all to yourself … then again!  The flavours are rapturous and will have your customers talking into next year.  Serve with chargrilled prawns, chicken, beef, pork or vegetables.  Great straight off the BBQ – This little sauce is totally dressed to impress.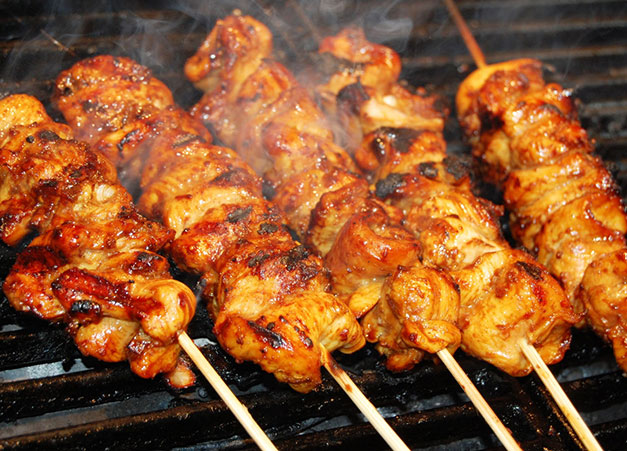 RISOTTO . COUSCOUS . QUINOA . DUKKAH . ANCIENT GRAINS
Artisan Range
Food Producers from our beautiful South Australia. Quality, natural foods created with home-made love and care. Beautifully packaged and read to heat – making meal times easier.
Naturally Good
Trying is believing how many goodies are packed inside. Our range has Gluten Free plus we are the biggest and, we believe, best dukkah producers in Australia.
Thistle Be Good
Primarily Gluten Free and suitable for Vegetarians, we have eleven varieties of Vegan … Yay! Using only healthy home-made recipes with the very best quality, locally sourced ingredients.

100% PURE NATURAL AUSTRALIAN HONEY
100% PURE HONEY

INSPIRED BY NATURE
Apart from all the aspects of health and safety - Technology is in our DNA. We don't just produce honey ... we create a tantalising experience and enjoyment.
NATURE AUSTRALIA
100% AUSTRALIAN

NATURAL HONEY
A young and innovative South Australian Export Company managed by experienced, entrepreneurial and nature loving South Australians.
NATURE AUSTRALIA
SPARKING


BRILLANT
IDEAS
EKS Food Services can assist you to successfully launch your product through our wide distribution network. We are full of bright ideas, and yes, we certainly have the connections.
CONTACT US HERE
SA | NT
DISTRIBUTOR CONTACT +61 8 439 803 954
Hover Me
Scroll for More
Get in Touch

ERICH K SCHMUSCH
FOOD SERVICES BROKER
T   0439 803 954
E   OFFICE@EKSFOODS.COM.AU
A  PO BOX 351, FULHAM GARDENS SA 5024
M  0439 803 954